Launceston & surrounds
Launcestonis a pretty city on the banks of the Tamar River in the north of Tasmania. It is the second biggest town in Tasmania after Hobart.
The historic architecture has been well preserved and makes for a plaisant wander.
Things to do in and around Launceston
explore the city and its historic buildings
take a trip around the picturesque Tamar Valley
visit the wineries around Launceston (in particular in the Tamar region)
visit the Tasmanian Arboretum near Devonport (www.tasmanianarboretum.org.au)
Launceston city and the Town Clock
This panorama is a good example of the historic architecture that can be found in Launceston.
Latest images
Related articles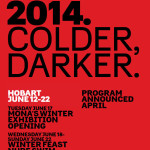 This morning the fine folks at MONA FOMA have announced the next DARK MOFO festival. The program will be fully known in April but so far we have : DARK MOFO 2014...
read more
Latest 360 panoramas