Nature in Tasmania
Tasmania is well known for its natural beauty.
Wilderness, wildlife... a beautiful island at the end of the world.
Latest images
Related articles
A new species of spider has been identified in Tasmania, the Blue Tier funnel web spider. QVMAG Honorary Research Associate John Douglas believes a funnel web spider recently collected in a wet forest near Weldborough is a new species. The spider is smaller that the Tasmanian funnel web spider but has bigger fangs. It is […]
read more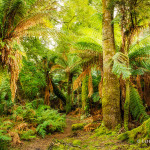 Beautiful forest scene in the Blue Tier, north east Tasmania (between Weldborough and Pyengana).
read more
Latest 360 panoramas